My Bucket List
Some people don't have to worry about their "budget" when knocking items off the bucket list. According to the National Taxpayers Union, George H.W. Bush received an $850,000 government allowance in 2012 but the dollar figure is an estimate and there's no cap on his ACTUAL allowance. He could go skydiving every day of his life and not have to worry about his nest egg.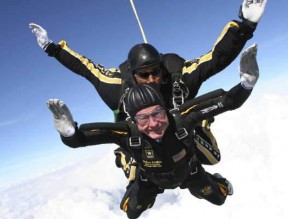 Source: Detroit Free Press
GEORGE H.W. BUSH SKYDIVING ON HIS 85TH BIRTHDAY
For the rest of us, we require careful planning in retirement for all the things we want to do before we physically wear down. We can help you plan for the costs of trips and hobbies in your golden years so that you can make the most of your retirement.